Foss Duo Diamond Stone 7514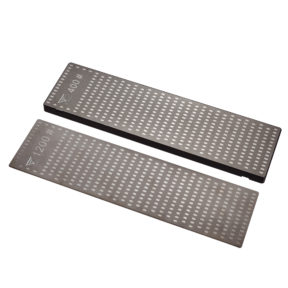 £ 50.00
| Size | Price (£) | Shipping (£) |
| --- | --- | --- |
| * | 50.00 | 5.00 |
Product Details
Foss Duo Diamond Stone 7514
Description
This is a combination stone of two grits of replaceable diamond plates, one for sharpening and one for polishing.
This size of stone is normally used in conjunction with a smaller burr / slip stone and/or tungsten tip for burr removal.
You may also wish to use a ceramic polishing stone for a mirror finish.
Some advantages are:
– Quick and easy sharpening
– The stone always stays flat
– Less burr on the sides of the runners
– Lasts longer
– Suitable for all qualities of steel (carbon, stainless, bimetal, PM etc.)
– Easy to clean
– Almost unbreakable, low weight, easy maintenance
The unique feature of this system is the option to replace the diamond plates.
Size: 250 x 70 x 10 mm